What are organic and natural cosmetics?
Organic and natural cosmetics is the use of natural and organic non-invasive and non-controversial ingredients in cosmetics. It is often associated with beauty trends, such as Clean Beauty,  Green Beauty or even zero waste cosmetics.
Natural and organic skin care have in common that they are made from 100% natural and biodegradable raw materials. They respect the environmental cycle and are manufactured without animal abuse.
Although both types of cosmetics products use natural ingredients and avoid harmful substances, there are differences between the two.
What are organic cosmetics?
Organic cosmetics are a form of plant-based skin care, derived from organic farming and meeting the strict criteria imposed by some certifying labels.
Organic skin care is certified without aggressive or harmful chemicals for the skin. They are formulated with safe ingredients for both the skin and the environment, such as essential oils, plant extracts, and natural active ingredients. They are generally part of the principles of green chemistry.
To be recognised as "organic", a product must contain a minimum of 95% of organically grown ingredients, of which 20% to 40% (depending on the certifying label) come directly from controlled crops with no chemical fertilisers or pesticides.
However, organic cosmetics include products that are not guaranteed to be free of known irritants or synthetic fragrances, in contrast to natural cosmetic products.
What are natural cosmetics?

Natural cosmetics focus on the use of entirely natural ingredients sourced from plant, animal, or mineral sources such as oils, plant butters, medicinal herbs, organic ferments, and minerals derived from non-polluting natural sources.
Natural cosmetic products generally contain at least 70% of ingredients sourced from natural extracts or of plant origin with no synthetic or artificial components (i.e.: parabens, silicones, etc.).They are guaranteed to be free of known irritants and are generally free of synthetic fragrances.
Although the ISO 16128 standard does not specifically govern "natural" cosmetics, many cosmetic manufacturers rely on this standard to determine whether their skin care products can be classified as "natural".
Whether a product is organic or natural, the manufacturing and production of these classified cosmetic products are achieved sustainably and respectfully of the consumer, his/her health, and, more broadly, the environment.
Organic and natural cosmetics concepts, skin care and labels
"The increased need for self-respect and planet-friendly products" has led to strong trends in natural and sustainable beauty routines, offering a new generation of products.
From clean beauty products with a simple and neutral composition to fully natural green beauty products, concepts of organic and natural cosmetics have emerged.
To ensure that consumers can identify organic and natural cosmetics, independent labels or organizations, such as COSMÉBIO, ECOCERT, NATRUE work day-to-day to enforce demanding "ethical specifications as well as a value charter" certifying organic and natural cosmetics. These certifications ensure that the products meet quality standards and respect the environment.
Faced with this collective ecological awareness and thanks to the certifying labels, companies in the cosmetics industry have undertaken numerous initiatives aligned with these sustainable beauty concepts to produce more environmentally friendly and safe skin care products. Let's take a closer look at these concepts.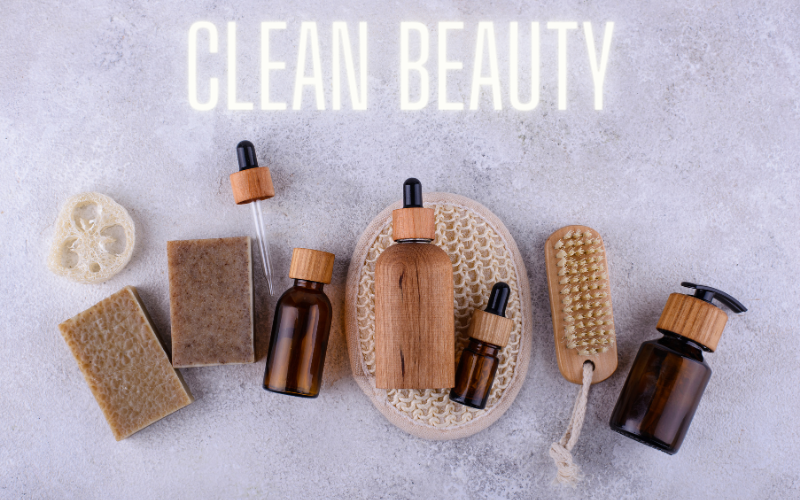 1. What is Clean Beauty?
Clean Beauty is a growing trend that encourages the use of clean and natural cosmetic products. We talk about clean cosmetics.
Its objective: the "less" rule (less ingredients, less fragrances, less chemistry, etc.) applied to its cosmetic care in order to reduce risks related to chemical products and additives on health and the environment.
The trend was born in the United States about a decade ago, hence its anglicism of "clean beauty". Consumers, then, became more aware of the dangers caused by chemical cosmetics on health.
Today, this awareness has increased and the Clean Beauty movement continues to gain momentum worldwide. 
The basic principle of this movement is simple: use products that avoid chemicals, irritating ingredients or controversial additives. Clean beauty skin care must also be free of dubious chemicals such as endocrine disruptors, phytoestrogenic compounds and volatile products.
Clean Beauty wants the best of beauty with the minimum of chemical ingredients and the maximum of transparency on the composition of its products. Clean beauty aims to improve skin care with efficiency and health-safety while being respectful of the environment."
What type of clean beauty products are available on the French cosmetics market?
Clean beauty natural products range from creams, lotions and gels to masks, serums for the face, body care, such as deodorants and balms, as well as hair care products including shampoos and conditioners.
These products are formulated without highly controversial chemical ingredients, such as sulfates, parabens, and silicones.
Clean beauty products are generally suitable for vegan and vegetarian consumers. They are also cruelty-free towards animals.
Upcycling and clean beauty, does it work? 
The upcycling trend of cosmetic ingredients is increasingly being introduced in the beauty industry. The practice is pairing with Clean beauty as it allows cosmetic companies  to develop sustainable and environment-friendly products.
Through the action of implementing upcycling of their cosmetic products, within their manufacturing processes, beauty brands commit themselves to promote sustainability in their products and reduce their environmental impact.
This shows a real act of transparency, as encouraged by the corporate social responsibility for cosmetic manufacturers.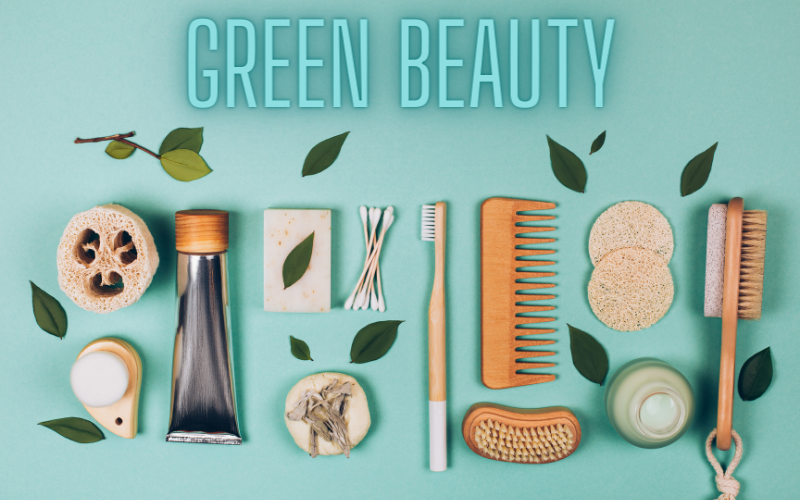 2. What is Green Beauty?
Green Beauty is an increasingly popular concept in the world of cosmetics. Its goal is to take care of the body using products made from natural and environmentally friendly ingredients.
Just like Clean Beauty, Green Beauty was born in the United States and has gained popularity around the world in recent years.
Today, more than ever, consumers want safe, healthy and environment-friendly products. They are keen to use natural, ecological, reusable, and low-polluting cosmetic products.
Green beauty products are often associated with the use of 100% recycled paper packagings, environment-friendly inks, or fully biodegradable beauty packagings.
What are the main ingredients used in green beauty products?
Green beauty formulas are generally made of fully natural ingredients such as oils, plants and plant extracts, herbs, flowers, various waxes and butters.
These ingredients are harvested from intuitive, sustainable or wild but controlled plantations, and derived 100% certified natural and ecological origin. They are used at a minimum of 95% in the cosmetic product.
Although natural products may take some time to show results on the skin, they generally have a higher percentage of very powerful active ingredients, and are more easily absorbed by the skin.
Natural cosmetic products offer a safe and natural way to take care of oneself and the planet.
3. What is zero waste cosmetics?

Faced with the increasing plastic and chemical waste from cosmetic products, the collective move towards organic, sustainable and natural cosmetics is stronger than ever. There is a growing desire to reduce one's carbon footprint. This goes through reducing waste that led to the growing zero-waste movement.
Zero-waste cosmetics focus on reducing drastically one's carbon footprint by using solid formats (soap, shampoo, face care, etc). Aligned with the use of organic and natural ingredients in their products, zero-waste cosmetics offer sustainable and eco-friendly beauty packaging.
How to select reliable organic and natural beauty brands?
There are several labels and organizations that allow consumers to trust organic and natural cosmetic brands. They help to frame the organic and natural cosmetic market by supporting professionals in the industry. Certifying labels have defined and established an international common standard according to strict criteria that guide organic and natural beauty brands and industries to:
promote the use of natural and/or organic skin care to consumers,
use natural resources responsibly,
respect biodiversity,
integrate and develop green chemistry principles in their manufacturing and production processes,
promote clean and environment-friendly processes that respect human health,
ensure that no animal treatment or testing is carried out.
Role of organic and natural cosmetics independant labels

They are both compliance-auditors and quality-controllers for organic and natural cosmetic products. They ensure the reliability of the products to consumers and enforce standards regarding ingredients, manufacturing, and packaging.
Among the dedicated European certifying labels and organizations, there are:
BDIH (Germany)
Cosmos Natural and Cosmos Organic (from Cosmebio France)
EcoCert Natural and Organic Cosmetic Standard (France)
ICEA (Italy)
Natrue (Germany)
Soil Association (UK)
Why choose sustainable beauty?
We have seen that organic and natural cosmetics are becoming increasingly popular. Because they enable safer skincare practices that are also beneficial for the planet. The use of these products offers undeniable advantages, including:
the moisturizing and nourishing properties of some natural ingredients help maintain good skin hygiene effectively,
safer skincare for human health and gentler for sensitive skin, particularly for those who may experience reactions to chemical-based products,
reduced risk of skin irritations and allergic reactions caused by chemicals such as parabens, sulfates, and silicones,
preservation of the skin's natural protective lipid layer,
reduction in waste by choosing cosmetics with innovative, sustainable and eco-friendly packaging as well as using upcycled cosmetic ingredients.
contribution to environmental preservation by limiting the use of harmful chemicals.
Lastly, choosing natural and organic skin care, whether they are clean, green, or zero-waste, does not necessarily require a radical change in one's beauty routine or an additional expense. It is a sustainable beauty approach that protects human health and conserves the planet.
Organic and Natural Cosmetics in a nutshell

In summary, the collective global awareness for ecological, sustainable, and safe cosmetics has created a strong demand for natural and organic skin care. Popular movements such as Clean Beauty, Green Beauty, and zero-waste cosmetics have paved the way for a new generation of cleaner, safer, more responsible, and sustainable cosmetic products.
Thanks to trustworthy certified international labels that enforce standards and regulations for natural and organic cosmetics, consumers can trust beauty brands offering these products.
Opting for responsible and sustainable skincare through organic and natural cosmetics goes beyond an ideal and emphasizes the importance of wellbeing and environmental respect.
Do you want to learn more about organic and natural cosmetics trends to develop sustainable beauty? The teams at ALPOL Cosmetique can share their beauty trend book with you along with their dedicated natural and organic formulas. Contact them here.