How do upcycling and cosmetic ingredients work together?
The emulation fostered around sustainable cosmetics including clean beauty, green beauty, slow cosmetics, farm-to-face cosmetics and zero waste cosmetics has led to a key trend: upcycling beauty.
The trend introduces some recovery processes resulting in recovered substances from waste or by-products without going through the recycling process again. The objective of such a recovery process lies within the reuse into higher value of available resources rather than seeking new ones.
For the beauty industry, by-products are usually organic and come from the food industry most of the time (water, fruit, vegetables, etc).
As of today, many beauty brands use recovery processes in their formulations, particularly into their cosmetic ingredients.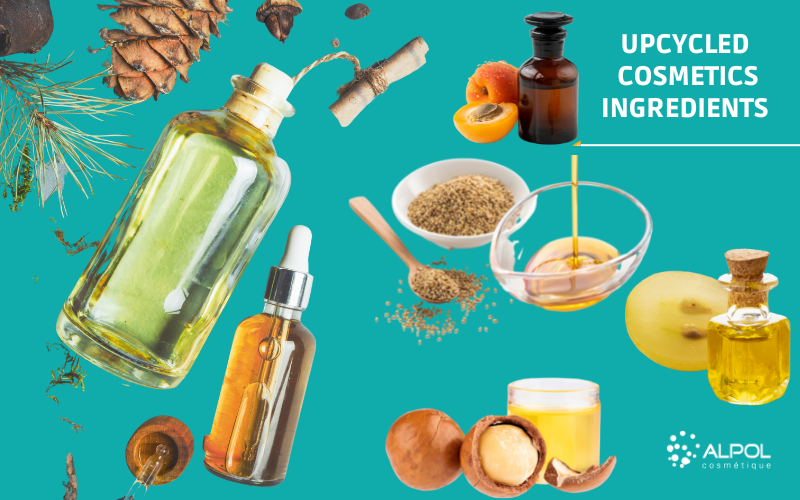 Why is upcycling cosmetic ingredients the next big thing?
Simply because it answers a strong and increasing consumers' need. Users' growing interest in responsible and sustainable purchasing as part of contributing to saving the planet has driven cosmetic brands and manufacturers to adopt an environment-friendly production approach as a whole.
All eyes are turned to using upcycled ingredients while developing a product skincare range!

3 benefits of upcycling cosmetics:
It reduces the amount of newly manufactured raw materials to conserve the environment
Using fair, sustainable and organic ingredients reduces pollution and fights against waste
It promotes a circular economy.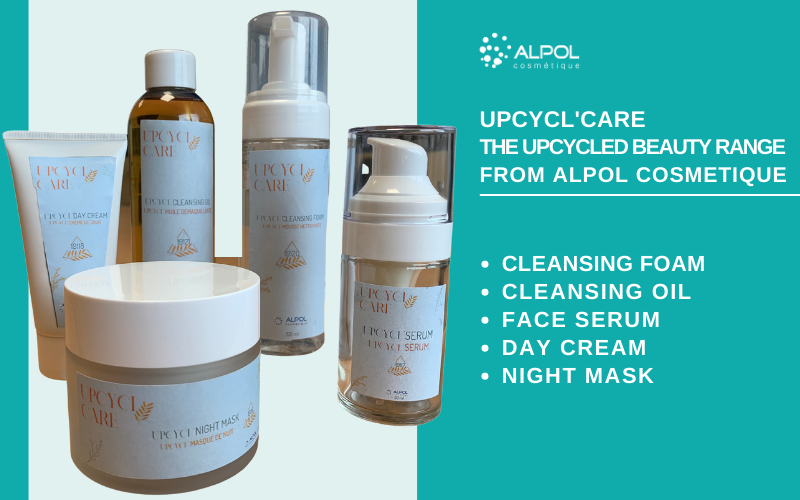 How to develop a complete line of performing products using cosmetic ingredients from upcycling?
Driven by its willingness to act sustainably and highly committed to its corporate social responsibility, French cosmetics manufacturer ALPOL Cosmetique has developed a full line of skincare range called Upcycl'Care.
Strongly supported by its CSR program "ID Beauty", the teams at ALPOL Cosmetique achieved a collective research with a laser focus on using cosmetic ingredients coming from upcycling in their cosmetic range Upcycl'Care. 
It includes all the necessary care products for a complete beauty routine without altering the sensoriality, quality or effectiveness of the cosmetic products:
Upcycl'Cleansing oil : It is composed with more than 50% upcycled raw materials from sesame oil, apricot oil and sunflower oil. This oil is designed to remove all types of make-up, even waterproof. Its texture transforms into milk on contact with water for a gentle cleansing of the skin without drying effect.
Upcycl'Cleansing foam : It is composed of four upcycled fruit waters that aim to tone and brighten the skin while gently cleansing the face and eliminating impurities and make-up residues. It has an airy and dense creamy and enveloping foam that leaves a clean and clear skin.
Upcycl'Serum : It is composed of upcycled active ingredients such as macadamia oil, lemon water extract, sesame oil and rambutan leaf extract. They have been selected to help to preserve the skin's youthfulness thanks to anti-wrinkle and moisturising properties. This gel-cream serum is formulated to fit perfectly into a daily skin care routine.
Upcycl'Day Cream : Its main active ingredients come from upcycled sources including prunus seed extract, macadamia oil, sesame oil and grape extract from the fruit's water. They have been chosen for their global daily action: moisturising, anti-wrinkle, anti-pollution and anti-oxidant effect.
Upcycl'night mask : It is composed of upcycled active ingredients such as rambutan bark extract, macadamia oil, sesame oil and cherry water extract, which have moisturising, densifying and firming properties for a harmony of facial volumes. This night care is formulated for an application as a "sleeping mask" to preserve the skin's density and moisturization.
Are you looking to develop a sustainable skincare range with upcycled active ingredients? Would you like to be supported in the design or formulation of upcycled cosmetic ingredients?
The ALPOL Cosmetique teams can help you with your project. Get in touch with them. 
Range.s has.have been developed basis on information related to ingredients only and they can't be claimed on finished product without specific test, previously placing on the market. It is up to brand owner to ensure claims conformity in accordance to the product and provided functions.