What cosmetic products are needed for a complete skincare routine?
In a holistic skin care philosophy, consumers seek for body self-care through beauty routines that meet their specific skin needs as well as their formula preferences and lifestyles. The goal of any good skincare routine is to target problem areas.
With a complete range of care products integrated into a skincare routine, brands can offer a global solution that meets all their consumers' skin needs.
Here is a non-exhaustive list of facial care to adapt according to the skin type:
Facial Cleanser
A facial cleanser is essential for removing impurities, dirt, and excess sebum without drying out the skin. The cleanser should be suited to the skin type, ensuring it is neither too mild nor too harsh.
Consumers appreciate cleansers that do not leave the skin feeling tight after use, seamlessly integrating them into their beauty routine at any time.
Face cleansing should be the first step in any skincare routine.
Toner
Toner is a water-based lotion that balances the skin's pH. It can be used in the morning to prepare the skin for moisturizers or in the evening as a makeup remover. It helps to tighten pores and smooth the skin's texture. This care product is ideal for any age in a skincare routine.
Eye Contour
Eye contour products are used to reduce the appearance of dark circles, fine lines, and under-eye puffiness. They can come in fluid or balm form.
According to CosmeticsObs, the appearance of the eye contour area "is one of the top beauty concerns for women". Meeting these high consumers' expectations represents a major challenge for the effectiveness of this care product, yet it also presents an opportunity for differentiation and product innovation in the market.
Serum
A serum is a concentrated cosmetic product that penetrates deep into the skin. It aims to address specific skin issues such as aging signs (wrinkles, dark spots), acne, or skin dehydration.
Serums are generally lighter than moisturizers and are designed to be applied before them.
For instance, the Tradi'Cinal Beauty Med holistic beauty range serum from French cosmetic manufacturer ALPOL Cosmetique offers a fluid and lightweight texture, providing a natural combination with a moisturizing cream within a beauty routine.
Day or Night Cream
Creams are available in a wide range of qualities and cater to various skin needs such as anti-aging, moisturizing, repairing, and sun protection.
Depending on the skin type (dry, normal, combination, oily, mature, or sensitive), creams offer optimal protection against external and indoor pollution as well as digital blue light pollution.
Sunscreen
Consumers are increasingly seeking skincare products that combine hydration with effective sunscreen.
Whether used daily or occasionally during intense sun exposure, sunscreen adapts to different skin types through its sun protection factors (SPFs).
It comes in various formats, such as creams, oils, sticks, or sprays. Consumers generally prefer sunscreens that do not leave a greasy residue or white cast on the skin. 
Including a daily face sunscreeny in a facial care range helps protect the skin from harmful UV rays.
READ ALSO – HOW TO DEVELOP SKIN CARE SUNSCREEN?
Oil
Oils are generally richer in nourishing components compared to conventional creams. They soften the skin by providing hydration to both the surface and deep layers of the skin cells. Oils can serve as an alternative to a nighttime face cream, for example.
Oils are ideal in a holistic skin care routine as they can be easily applied to the face using skincare tools like jade rollers or guas shas stones. They are usually packed full of beneficial skincare ingredients like vitamin.The advantage of oils lies in their intensive nourishment for the skin while improving the overall complexion. 
They are suitable for both morning and evening application in a beauty routine.
Exfoliator or Facial Scrub
Exfoliators help eliminate or slough off dead skin cells accumulated on the skin's surface, restoring its smoothness and radiance. There are several types of exfoliators, including mechanical (grain-based), chemical (acid-based), and enzymatic (enzyme-based) exfoliators.
For example, the Seboderm exfoliating gel from bespoke manufacturer ALPOL Cosmetique is specifically designed for acne-prone skin, and gently cleanses and purifies the skin with its silica particles. Enriched with sebum-regulating properties, it helps eliminate impurities and excess sebum.
Face Mask
Facial masks are used to provide intensive treatment to the skin and help address specific issues, such as acne, hyperpigmentation, and dehydration.
There are different types of face masks available, including hydrating masks, purifying masks, peel-off masks, and smoothing masks. They are typically used on a weekly basis and offer numerous benefits for the skin.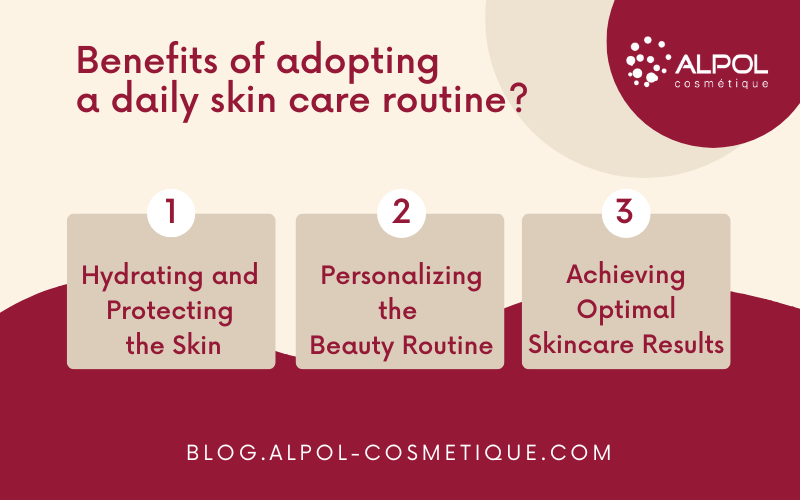 Benefits of adopting a daily skin care routine
Hydrating and Protecting the Skin
Skin dryness and protection against the harmful effects of external aggressors such as sun, wind, and pollution are key concerns for consumers of all ages.
Offering a regular skincare routine helps meet the needs of maintaining healthy and radiant skin. Depending on the skin types, the beauty ritual can encompass a comprehensive range of facial skincare products that address specific needs such as acne, wrinkles, redness, dryness, etc.
A complete skincare routine goes beyond the mere use of cosmetic products; it aims to promote a healthy lifestyle, including balanced nutrition, adequate water intake, and regular physical activity. This holistic approach is the principle of holistic beauty.
Personalizing the Beauty Routine
The customization of cosmetic products based on consumer needs is an advantage that sets a beauty brand apart in the market.
By considering skin types, age, and common concerns such as dryness, blackheads, acne, wrinkles, or excessive pigmentation, beauty brands can differentiate themselves by offering personalized skincare routines.
Achieving Optimal Skincare Results
The effectiveness of a beauty ritual is crucial in achieving optimal results, both for the skin and the beauty brand. If a product delivers results, consumers will continue to purchase it, and most likely become loyal to the brand.
Investing in innovative formulas is essential for differentiation. By utilizing advanced technologies to enhance product effectiveness, cosmetic companies stand out in their offering of skincare routines.
Range.s has.have been developed basis on information related to ingredients only and they can't be claimed on finished product without specific test, previously placing on the market. It is up to brand owner to ensure claims conformity in accordance to the product and provided functions.