What is a holistic skin care routine? 
First, what is holistic skin care? It is nothing but an extension of holistic beauty. 
Born on the observation that the state of the skin depends as much on what happens inside us as around us (climate, food, water, stress, hormones, sleep, pollution), holistic beauty is actually a lifestyle and a very comprehensive approach to health and balance with the whole of oneself – the inner and outer beauty. It is a whol-istic approach!
The holistic beauty approach is based on several principles aiming to improve one's overall health and beauty: good management of emotional stress, healthy diet, regular physical activity, restful sleep or beauty routines advocating self-care, and meaningful moments for oneself a few minutes a day. 
For consumers, following a holistic skin care routine supplements the principles of holistic beauty. It  carries out beauty rituals aimed at taking care of oneself, one's body and one's skin. We talk about beauty routine therapy.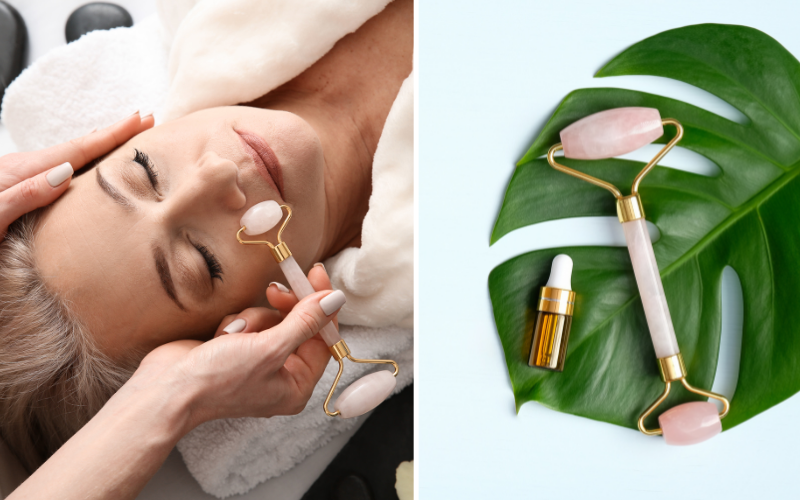 How to establish a holistic skin care routine? 

We know that cosmetic skin care allows us to take care of skin problems that are visible from the outside such as blemishes, skin ageing, tightness, dark spots, sun mask, etc. 
Setting up a holistic skin care routine will combine the application of cosmetic products with the use of beauty accessories or food supplements dedicated to face skin while pampering oneself. It perfects the beauty routine.
For example: a jade roller can be used before applying a mask or a night cream. Derived from traditional Chinese medicine, the jade roller aims to preserve youthfulness through plumping the skin, smoothing it and giving face skin a natural glow.  
A holistic skin care routine can combine the use of a beauty accessory followed by the application of a face treatment whose formulas contain a unique complex of plant extracts with virtues inspired by Chinese pharmacopoeia.

So, we observe that adopting a holistic skin care routine offers new types of feel-good beauty rituals that aim to bring positive intentions and mindfulness self-care. Let's look at a few associated holistic skin care products that can treat the body holistically.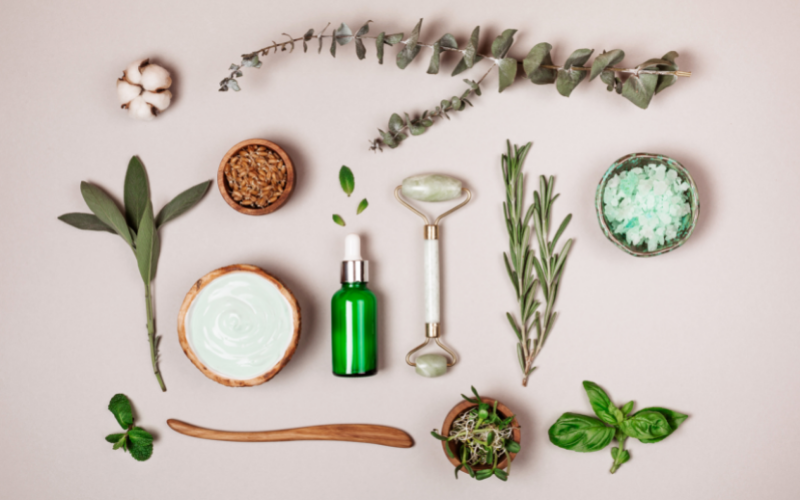 What holistic skin care products to seek? 

The holistic beauty trend is based on the whole well-being which begins when body, mind and soul are in harmony. It is also established that the radiance of the outer beauty is reflective of healthy bodily functions. 
No wonder why then food is at the heart of this whol-istic approach! While it provides the maximum number of micronutrients, there are nutritional supplements or food supplements (vitamins, minerals, etc.) that can contribute to its better functioning in the event of a deficiency.
Even if the skin draws most of its needs from the body, skin care products provide additional protection.  
For instance, it is interesting to associate natural-food supplements intake with topical products as the various group of vitamins when combined have a complementary synergistic effect called "nutri-cosmetics".
Beauty is boosted from the inside with food supplements and perfected after applying an external skin care on the face.
The use of food supplements really help to restore balance in our modern lives, to preserve our beauty, to heal skin problems, and even to relax or give us an energy boost on a day-to-day basis. It can even be a magic potion to specific face treatment.
Through studying the holistic beauty trend, ALPOL Cosmétique has developed a holistic beauty products range named "In & Out" including 2 products:
SunCare skin care


Based on the nutri-cosmetic approach, this skin care product range focuses on synergy of cosmetic products with food supplements. Its suncare cosmetic product – Sunfluid SPF50+ and Tan preparing Milk act on epidermis, while its suncare food supplements act on building and improving cutaneous tissues, from dermis and hypodermis;

 

Anti-ageing alliance


This skin care and food supplement beauty range aims to reduce the signs of ageing through a combined action: 

Applying an anti-ageing cream formulated with botox-like effect aiming to replump and lift the skin as well as improving its elasticity and tonicity.

Taking a drinkable food supplement, aimed to help smooth and replump facial features from the inside.
By analysing the body's ability to protect itself from external aggressions through the action of its "good bacteria", ALPOL Cosmétique has developed new dermo-nutrition products based on prebiotic ingredients. 
These food supplements aim to help maintain a good balance in the microbial flora and thereby help support naturally healthy and beautiful skin. Those food supplements are capable of fighting against factors that can alter the skin's appearance.
Are you a cosmetic brand looking to develop a holistic skin care products range?
Contact an expert at ALPOL Cosmetique to help you through your project. 
Range.s has.have been developed basis on information related to ingredients only and they can't be claimed on finished product without specific test, previously placing on the market. It is up to brand owner to ensure claims conformity in accordance to the product and provided functions.