1. Choosing your sunscreen positioning
There is a broad spectrum of sun care products on the market including sun creams, sun oils, milks, balms, mists, powders, etc. Whether sunscreens are physical or chemical, there is much diversity and innovative concepts within the world of sun care.
Beauty brands seek to appeal to consumers with new sunscreen feels. This is mainly to meet cosmetics market trends and the obvious requirements to protect the skin from sunlight. Sun protection products must above all be effective to maintain their "sun resistance" during long beach days, protect against sunburn, ultraviolet (UV) radiation, skin cancer and premature skin aging causes. 
In order to stand out, it is essential to define the positioning of the sunscreen in response to consumers' needs or to a specific market trend such as:
Environmental impact of both skin care sunscreen products and beauty packaging,
Use of ingredients minimalism sourced from clean beauty principles,  
Or even targeted and personalised skin care sunscreen for light skin, dark skin, sensitive skin, children, sportsmen and-women, business men & women, face creams, body creams, etc.
If you don't have an integrated marketing department within your company to obtain sunscreen market data, be reassured that some cosmetics manufacturers can provide you with this broad market analysis.
For instance, ALPOL Cosmétique, a French cosmetics manufacturer, provides a complete monitoring of sun market trends along with a range of sun protection products developed further each year.
2. Defining key specifications for skin care sunscreen
Defining specification for your sun protection product results in drafting clearly and carefully written guidelines. This is the second key step in its development. Specs must include all the characteristics the sunscreen is to contain as well as its use:
Ingredients list: the ones to prioritize (e.g. mineral, natural or organic ingredients, zinc oxide, etc) and the ones to avoid (e.g. irritating chemicals, skin-damaging free radicals, etc)
Sunscreen regulatory compliance aimed requirements 

Sun Protection Factor (SPF): it establishes the sun protection factor of a skin care sunscreen in relation to UVA and UVB rays. There are eight SPF levels: 6, 10, 15, 20, 25, 30, 50 and 50+.


Note: the choice of SPF depends on the type of skin and the sun conditions (summer, winter, sea, mountain, duration of exposure to the sun, etc.). The lighter the skin (phototype 1) is, the higher the SPF should be.

Texture type to apply or sought sensoriality: gel, mist, cream, etc

Beauty packaging: all-in-one tube, spray, etc

Dermatologist tests to be carried out according to the choice of your positioning and the product claim

Product development schedule

Etc.
The best way to draw up specifications for your sun protection product is to be accompanied by a cosmetics manufacturer. Choose one who is a specialist in the development of skin care products and has a well-known expertise in skin care sunscreen.
3. Designing beauty formula and running dermatologist testings
Once your product has been fully defined, the next step is to make your skin care sunscreen formula. This is often carried out by the Research & Development department of the cosmetics laboratory you have missionned.
That stage helps to build up your sunscreen formula and to run mandatory dermatologist tests on the formula to make sure it doesn't cause any skin-damage. Tests are also run on the technical and financial feasibility of your sun protection project.
Applying utmost discipline on the sunscreen formula is highly recommended along with the methods used to determine its level of effectiveness on the skin.
Thanks to its approved technical sun care expertise, ALPOL Cosmétique set up :
A

multidisciplinary focus group

dedicated to skin care sunscreen innovation since 2015. Its objective is to provide sunscreen  innovations for its customers every year.




Justine ALEXANDRE, marketing project manager at ALPOL Cosmétique says: "We are the only ones on the cosmetics market to have set up a dedicated focus group as a cosmetic formula-maker partner."
A catalogue of standard sunscreen formulas that provides dermatologist-tested sound and safe SPF. For more info, please click here.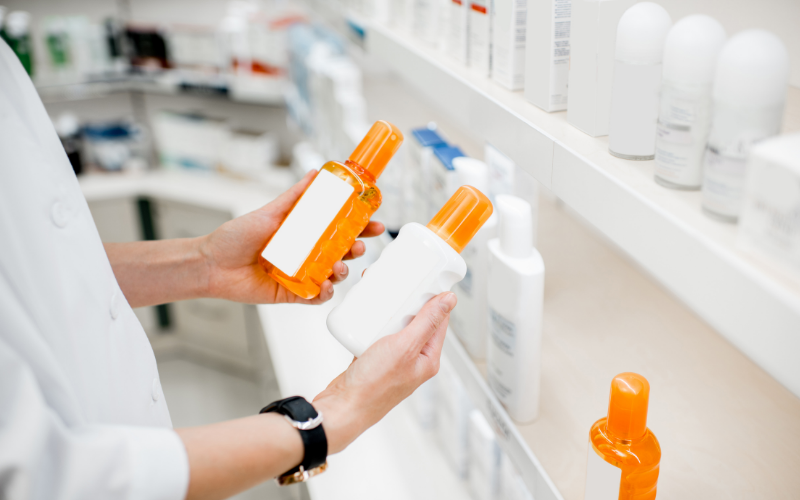 4. 
Manufacture the skin care sunscreen formula and package the product
After the formula design and tests, time to move on to the large-scale manufacturing of your sunscreen. Produced in broad quantities, its formula is industrialised and packaged according to the selected beauty packaging criteria. The product is then ready to go to market.
Do you want to develop a broad-spectrum SPF sunscreen range? ALPOL Cosmétique will accompany you through all the stages of your project: from the sun protection market analysis to marketing your skin care sunscreen.