Step 1: Identify market trends
Developing skin care products go hand to hand with market studies. This first step is critical to cosmetic project development as it will ascertain whether or not there is room in the market for your product offering, and will validate the actual market potential. This market study involves :
identifying market developments, new trends and possible barriers;
competitive analysis, i.e. the positioning of your product in relation to competitors;
defining your potential customers, their needs and their geographical location in relation to your positioning
identifying partners with whom you will collaborate (e.g. cosmetics manufacturers, etc.);
and last but not least, defining your cosmetics product range positioning.
In the case you have identified a market trend i.e. clean beauty or holistic beauty but you're seeking for external support to define your product ; then you can be assisted in your project design.
Cosmetics manufacturer ALPOL Cosmétique can support you from A to Z in your cosmetic project development as well as guide you in drawing your project main outlines, thanks to its thorough analysis of market trends and its knowledge of your product requirements.
WATCH THE VIDEO – From the client's brief to bringing the end product to market 
Step 2: Define specifications
Specifications describe your cosmetics product in detail: textures, active ingredients, smell, blacklist of raw materials, certified label, tests to be achieved, production, packaging, labelling,  etc.
It lays down rules and carries exchanges over the product, with the selected cosmetics manufacturer, from the start of the project to the marketing of the end product.
It must be clear, precise and exhaustive.
To define it, according to your specificities, it is imperative to use a contract research lab specialised in formulation and monitoring of cosmetic projects. This will help you to draw up accurate specifications and to develop a cosmetic product according to a very precise schedule.
For instance: if your specifications define a cosmetic product with 99% of origin-natural ingredients, according to ISO 16128 standard, cosmetics manufacturer ALPOL Cosmétique can assist you in calculating the percentage of your product's naturalness. Thanks to its thorough and non-restrictive selection policy of over 4 500 raw materials.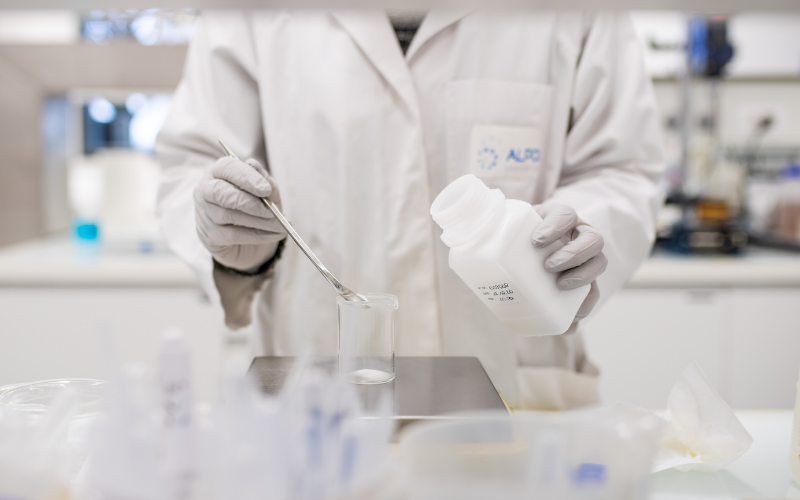 Step 3: Design cosmetic formulation and conduct mandatory testing 
Established specifications allow the Research & Development Department to study the technical and financial feasibility of your project, and offer you the best solutions to meet your needs.
Depending on your product formula criteria, you can choose between:
bespoke formulations made-to-order
or turnkey formulations, offering standard formulations matching your key criteria
For innovative custom-made or turnkey cosmetic formulas, ALPOL Cosmétique offers a wide range of possibilities for all skin care product range developments: dermo-cosmetics, cosmetics, organic, biocid, medical devices, etc.
This third step integrates all the scheduled stages including:
performing the compulsory tests,
defining and selecting the beauty packaging,
setting the cosmetics decor.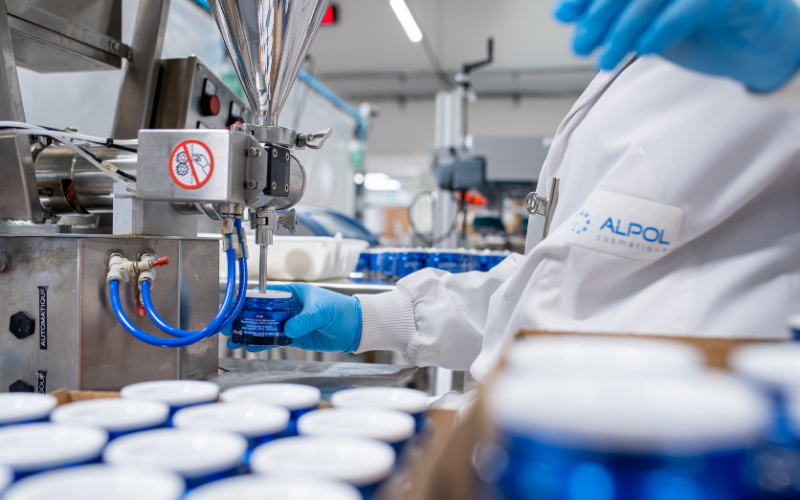 WATCH THE VIDEO – INSIDE A R&D LABORATORY
Step 4 : Industrialize formulas and manufacture cosmetic products
After the test quantity of 300g to 2kg developed in the laboratory and validated according to your specific requirements comes the industrial transposition of your formulas adapted to each project before producing hundreds or thousands of kilos.
This production stage includes the bulk formula at a large-scale manufacturing as well as the product's customization into the selected beauty packaging.
As for the previous stages, it is vital to get support from a dedicated laboratory that is in total command of all aspects of the products from initial design right through to distribution in order to:
anticipate possible risks during this key stage
shift the responsibility of this industrial phase.
Step 5: Go-to-market
The final stage of the cosmetics project development: bringing to market your end product that is compliant with your needs, according to your initial specifications.
Ready-to-market products are delivered to the agreed location.
What we need to remember is that to develop a skin care product range, you need to surround yourself with partners who are experts in their field, who you can trust and who listen to your needs. A good partner is an ally providing you with all the necessary information to successfully attain your business project.
Do you have a skin care development project? ALPOL Cosmétique, French cosmetics manufacturer for over 70 years, supports you from A to Z throughout all stages of your project, from your brief to bringing your end product to market.