What is DermoCosmetics?
Dermo cosmetics, or dermocosmetics, refer to products specially designed to care for the skin with beneficial dermatological actions. While there's no precise legal definition, dermo cosmetics is at the intersection of medicine and skin beauty, with products developed in close collaboration with healthcare professionals, including doctors and dermatologists.
The Origin of Dermo Cosmetics
The concept of dermo cosmetics emerged gradually with the increasing involvement of pharmaceutical and parapharmaceutical labs in cosmetic product development. This partnership led to the creation of more complex and targeted formulas, catering to the specific needs of different skin types and skin issues, such as acne, dryness or hyperpigmentation.
Dermo Cosmetics Today
With a scientific approach, dermocosmetics go beyond standard beauty products, emphasizing the importance of research and development in the service of skincare and haircare. Over the years, beauty brands and cosmetics manufacturers have recognized the potential of this flourishing market, investing heavily in clinical and scientific studies to demonstrate the effectiveness and safety of their products.
Technological progress also contributes to the evolution of dermo cosmetics. Today, many private label dermocosmetics and cosmetics manufacturers manage innovative techniques in their formulations and production processes.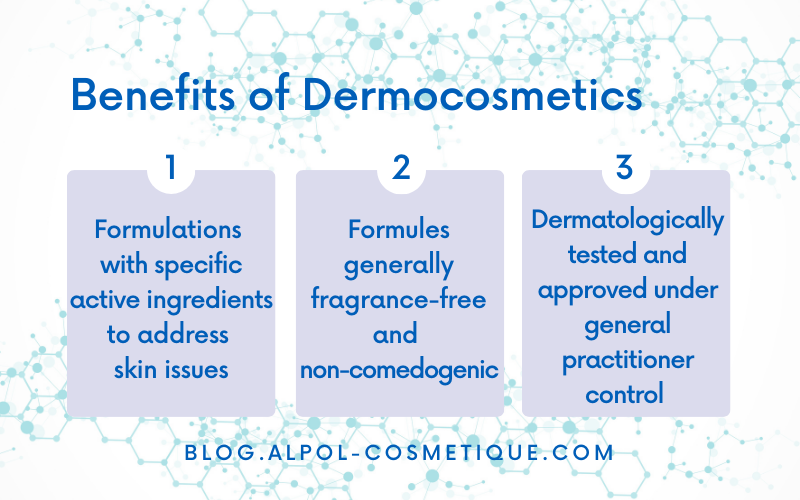 Benefits of DermoCosmetics
Dermocosmetic products offer several benefits for the skin compared to traditional beauty products. Their strengths primarily lie in their formulations. While they remain classified as cosmetics, these products contain active ingredients that help address the root causes of skin issues such as acne, psoriasis, and rosacea. Additionally, their formulations are generally fragrance-free and non-comedogenic.
Dermocosmetics ensure the optimal safety of their products through more elaborate safety and efficacy tests than those required for standard cosmetic products. Ingredients are tested and approved under dermatological supervision and/or by general practitioners, reducing the risk of allergic reactions or skin irritations.
Scientific Evidence of Dermo Cosmetic Effectiveness
In-depth scientific studies conducted by dermatologicale cosmetics laboratories guarantee the effectiveness of the ingredients used in dermo cosmetic formulas. The latter aim to offer visible, high-quality results on the skin.
For instance, a study, published in the Journal of Cosmetic Dermatology, demonstrated the efficiency of using a serum containing bakuchiol coupled with melatonin for a period of time. After a 12-week face application, results showed significant facial wrinkles and fine lines decrease.
So dermo cosmetics provide an ideal solution for skin beauty as it aims to offer both cosmetic sensory appeal and the latest scientific advancements in dermatology. Thanks to the combination of powerful actives with formulations tailored to the specific needs of each skin type, dermo cosmetic products deliver tangible results, both aesthetically and effectively. Dermocosmetics are typically available for purchase in pharmacies and parapharmacies.
Did You Know? ALPOL Cosmetique is a French cosmetics manufacturer with an in-house R&D laboratory specialized in skincare and dermocosmetics. ALPOL is a key partner in the cosmetics industry, with over 70 years of expertise. As a full service private label, ALPOL offers bespoke cosmetic and dermocosmetic solutions from marketing to go-to-market. Explore their dermo-cosmetic ranges DermoCeuticals and ALPHADERM by contacting their experti teams here.