What is a bespoke Cosmetics Manufacturer?
A bespoke cosmetics manufacturer is a company specialised in the development and custom manufacturing of cosmetic products. They formulate and supply cosmetic and/or pharmaceutical goods according to the client's specific needs. 
Personal or private label cosmetics businesses are all-in-one agencies: advisers, doers and suppliers. They operate from product's marketing to formulation designing and production within needed timescales. They generally conduct all stages of cosmetics products development.
Partnering up with a cosmetics manufacturer requires combining several interconnected activities. Let's take a closer look at its key features.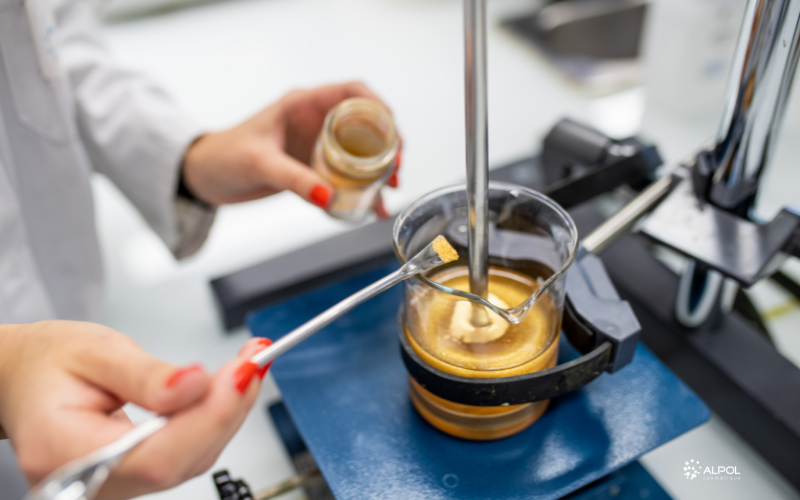 ALPOL Cosmétique's 5 key features to being a cosmetics partner

1. Bespoke formulation design
In order to design cosmetics products suited to specific needs, the cosmetics supplier needs to define a personal cosmetic formula and choose:
its ingredients

its texture

its shape.
Cosmetic formula is a key step to successfully develop a line or range of skin care products.  
At ALPOL Cosmétique, each formula parameter has been thought of to suit the project: active ingredients for skin care benefits, sensoriality for a pleasurable use and texture for an easy application.
Research and development for sensorial, emotional and even playful textures are carried out at the ALPOL Cosmétique R&D laboratory, located in Château-Gaillard in the Ain region, near Lyon in France.
The cosmetics manufacturer teams manage over 1,000 skin care products range development projects per year.
2. Partnering up with customers 
Some private label cosmetics manufacturers offer different levels of services. They can be full custom services, or partly custom services. For ALPOL Cosmétique, it is a 360° full custom support at every phase of a cosmetic product's development: from product consultation, to marketing and conception to production. 
Understanding ought to be flexible and adapted to beauty brands highly challenging needs. Nurturing and facilitating are key features to successfully respond to customers. 
Total control over the entire value chain in both beauty and pharmaceutical fields is key to quality support. It allows ALPOL Cosmétique to anticipate, maintain or create new and increasingly innovative cosmetics. 
WATCH THE VIIDEO – HOW TO UNDERSTAND OUR CLIENTS' NEEDS IN COSMETICS? 
3. Total control over the value chain
ALPOL Cosmétique combines different activities to build the answers that are best suited to the customer context. It starts from the point of marketing product research, to conception, including R&D, manufacturing and distribution. It involves high-quality technical translation of the client's needs and expectations through each phase of cosmetics product development:  


ALPOL Cosmétique advocates a performing and sustainable support by coordinating all parties involved in each of its cosmetics projects. The bespoke cosmetics manufacturer surrounds itself with carefully selected local partners. 
This is indeed a virtuous circle where each action is linked without being divided in order to strengthen existing, long-lasting partnerships and create new ones.
4. Innovate

"From innovation to manufacturing", this is key to the bespoke cosmetics manufacturer who feeds its undertaken reflections and actions all the way through each project development. To ALPOL Cosmétique, "difference lies within innovation".
Jérôme Six, ALPOL Cosmétique CEO shares his views on making a difference through innovation. As a matter of fact at ALPOL Cosmétique's, innovation is key number 1 to support its customers.
5. Entrepreneurship

In short, being a bespoke cosmetics manufacturer means being an entrepreneur on several levels. It also means being a partner as it delivers adequate responses to the high demands of beauty brands and pharmaceutical businesses through high-quality skin care end-products.
Bespoke cosmetics manufacturer for over 70 years, ALPOL Cosmétique is an international trusted partner to pharmaceutical and cosmetics brands across the globe. 
Thanks to its renowned expertise in the dermo-cosmetics, dermo-aesthetics and suncare industry, the company uses its innovation and unique French know-how to support closely its customers to shape tomorrow's cosmetics. 
Do you have a skin care product development project or are you looking for a turnkey support to assist your company with the design, manufacturing and distribution of your product? Then, get in touch with our teams.