What is the best food for clear skin?
Beautiful skin is the result of several contributing factors: water, a balanced diet, a healthy and holistic lifestyle including appropriate beauty rituals.
This is a holistic approach acting on the whole body, from the inside out.
In terms of nutrition, super foods such as fruit and vegetables have super powers for health and the skin.
They contain numerous nutrients that are essential to the proper functioning of the body, such as vitamins (A, B, C, etc), trace elements (fatty acids, etc.), minerals and antioxidants (polyphenols, etc.).
The French Health Observatory has also shown that to regain youthful skin, it is better to include fruits and vegetables rich in antioxidants in one's diet! This is due to their molecules helping to fight against premature ageing of body cells.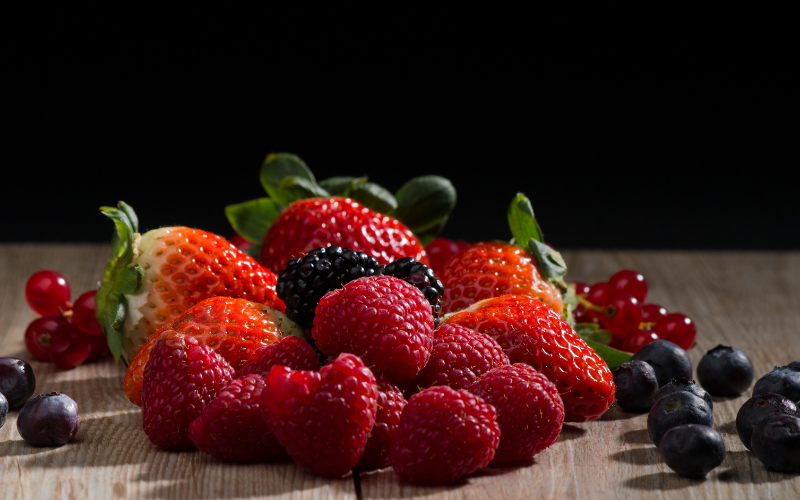 It is further said that their effectiveness is tenfold on skin tissues in particular when beauty rituals are adopted as an addition. So what are these super foods?
Coloured vegetables are described as having a protective effect on the skin including red, yellow and green peppers, red, green and kale cabbage, Brussels sprouts, artichokes and spinach. Eaten regularly in season, their high antioxidant content helps to act as an anti-ageing agent on the skin. Broccoli is also a super vegetable, known for its cell renewal properties!
Some legumes such as dried beans are described as a major source of antioxidants that can be eaten all year round.
Blueberries, blackcurrants, blackberries, strawberries, raspberries, redcurrants, pomegranates and tomatoes are known to give a glowing complexion to the skin, thanks to their polyphenol and vitamin C content.
Citrus fruits all contain vitamin C, which is essential to harmonise complexion, stimulate collagen synthesis and help slow down skin ageing. Kiwi fruit is also high in vitamin C.
Apricot and papaya help the skin to rebuild its elasticity and resistance to hot and cold temperatures. This is also why cosmetics manufacturer, ALPOL Cosmetique uses fruit extract in its Fruity cosmetics range.
Nuts, almonds, pecans, hazelnuts, dried apricots, sultanas, goji berries, cranberries… All of these nuts and dried fruit are excellent for skin moisturising by their high content in antioxidants as well as fatty acids and vitamin E.
Our advice:
If you can't eat seasonal fruit all year round, you can maintain clear skin with beauty rituals that combine diet and cosmetics.
For example, ALPOL Cosmetique draws on the benefits of fruit and vegetables to formulate specific cosmetic products. The cosmetic manufacturer chose to add to its formulations essential dietary nutrients extracted from apricot and papaya to help maintain a glowing complexion all year round.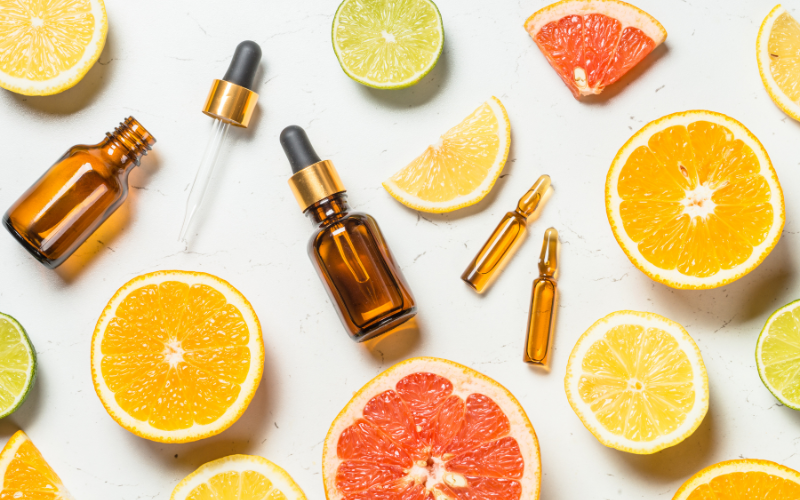 What foods should be avoided for beautiful skin?
There are three types of food responsible for dull, acne-prone and unhealthy skin: sugar, fat and milk.
Sugars are everywhere in our diet in very large quantities throughout processed products (industrial cakes, sweets, milk chocolate, sodas…). Their negative effect on health including the skin when consumed in excess can cause weight gain and disease. These sugars, known as fast sugars, entail high sebum production making the skin oily.
Another guilty food is fat! In particular, deli style meats and fried foods which encourages pimples and blackheads to develop on the skin's surface.
Last but not least, dairy products including yoghurts, cheeses and cream also cause the formation of spots and pimples.
Nutritionist Dr Dalu cites that "dairy products promote acne as they contain molecules that increase androgens and the formation of pimples".
To conclude, maintaining clear skin all year round is due to several factors, including combining the contents of one's plate with dedicated beauty rituals and cosmetics such as ALPOL Cosmetique's fruity cosmetics range.
Range.s has.have been developed basis on information related to ingredients only and they can't be claimed on finished product without specific test, previously placing on the market. It is up to brand owner to ensure claims conformity in accordance to the product and provided functions.