What is CSAR China? 
Since January 1, 2021, China has revised its cosmetic regulation, introducing the Cosmetic Supervision and Administration Regulation (CSAR). It consolidates more than 20 regulatory texts, aiming to enhance the safety, quality, and efficacy of cosmetic products sold in the Chinese market.
Key Principles of CSAR
This set of regulatory texts, in some aspects, establishes an approval system for placing cosmetic products in China in compliance. The main change in this evolution of Chinese regulations is the emphasis on controlling the entire lifecycle of a product, from the selection of raw materials to its presence in the market throughout its lifespan, as noted by Cosmetics Obs.
This comprehensive "360-degree" cosmetic regulation is an integrated and revised version of the initial cosmetic product regulation. It includes specific requirements for registration, quality, efficacy testing, and product evaluation. It also covers management and supervision requirements for beauty companies that manufacture and / or  market cosmetic products in China.
Key Changes Introduced by CSAR
CSAR introduces several additional provisions to ensure the safety and proper use of products intended for Chinese consumers. These changes include:
Updated classification of cosmetic products
A comprehensive list, published by Chinese authorities, of prohibited or restricted components in cosmetic products, along with a management system for new ingredients used in cosmetics
Requirements for claims and efficacy of cosmetic products
A safety assessment of products, to be implemented by 2024, requiring safety assessors to have at least five years of professional experience in safety or quality evaluation.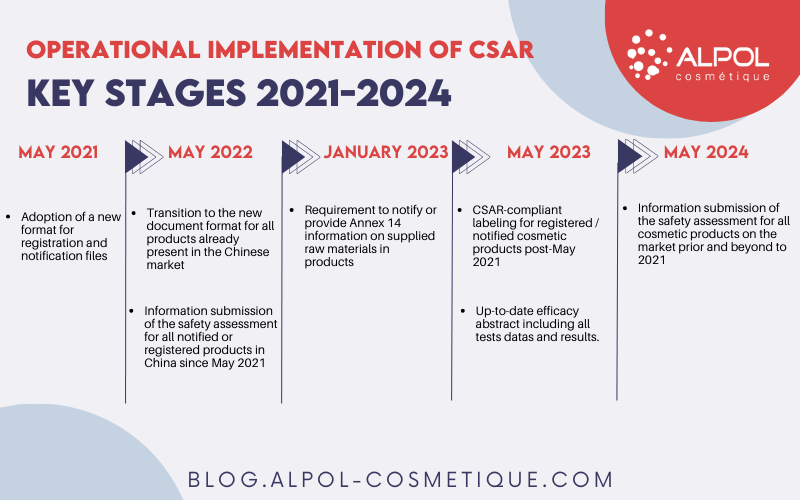 Operational implementation of CSAR
CSAR came into effect on January 1, 2021, and its operational implementation is occurring in key stages until 2024, with the release of specific implementation texts. However, it is important to note that cosmetic regulatory affairs operators may have sometimes limited guidance or advance visibility on the changes to consider.
However, all cosmetic products, both existing and new, must comply with the updated requirements of CSAR in the Chinese market. Based on the data in our possession, this includes:
May 2021: Adoption of a new format for registration and notification files.
May 2022 :
→ Transition to the new document format for all products already present in the Chinese market.
→ Information submission of the "efficacy assessment for all notified or registered products in China since May 2021″.
January 2023: Requirement to notify or provide Annex 14 information on supplied raw materials in products.
May 2023 :
→ CSAR-compliant labeling for registered / notified cosmetic products post-May 2021.
→ Submission of up-to-date efficacy abstract including all tests data and results.
May 2024 : Submission of the full safety assessment for all products registered or notified prior to May 2021.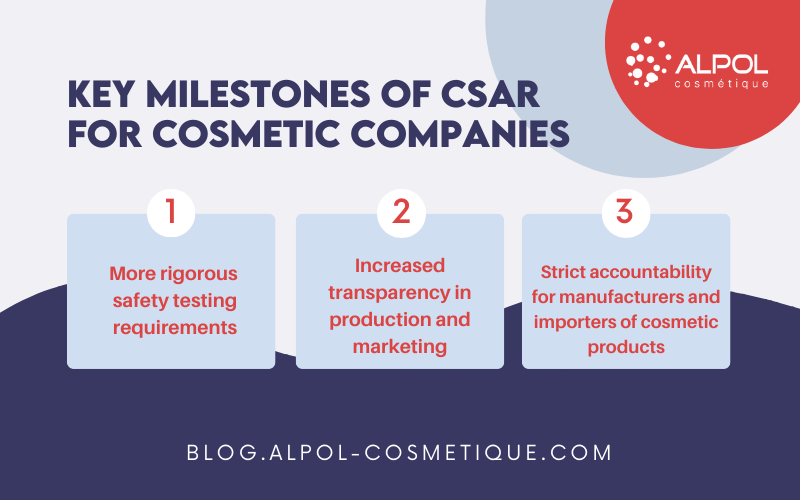 What are the changes introduced by CSAR for cosmetic companies

The major changes brought by CSAR include:
More rigorous safety testing requirements
Increased transparency in production and marketing
Strict accountability for cosmetic manufacturers and importers of cosmetic products.
Chinese authorities have high expectations regarding the quality control of cosmetic products. They have implemented a centralized system to improve control over ingredient/formula data and the entire product creation cycle.
With the application of CSAR to existing cosmetic products, there is a need to update existing documentation within an evolving regulatory framework.
The responsibility of market players in China has been expanded. They must be aware of the authorities' high expectations regarding product compliance throughout the entire marketing process, particularly in the event of any changes. Enhanced scrutiny and the possibility of significant penalties should also be taken into consideration.
How private label ALPOL Cosmetique helps ensure regulatory compliance
Faced with stricter Chinese cosmetic regulation, beauty brands operating in the Chinese market must ensure excellent management and rigorous evaluation of their cosmetic products, ingredients, and registrations to meet international quality, efficacy, and safety standards.
With its integrated Cosmetic Regulatory Affairs department, French cosmetic manufacturer- ALPOL Cosmetique enables its clients to confidently navigate their cosmetic product development projects, Made in France, for the Chinese market. By fully integrating regulatory aspects into the client's journey, ALPOL Cosmetique leaves no room for deviations.
In addition to providing real-time regulatory monitoring of French and international cosmetic regulation, ALPOL Cosmetique' Regulatory Affairs department offers dedicated support in assessing formula compliance.