What are the emerging trends in beauty packaging?
Current trends show a clear emergence of ethical consumer behaviour. The need to consume all responsible, environment-friendly and cleaner products, in line with the Clean Beauty trend, is becoming the new generation for consumption patterns.
Consumers are demanding a global change in cosmetic products. Brands place themselves, evolve  their cosmetic formulations along with their beauty packaging.
Gone are the days of packaging ending up in the bin! Embrace innovative, sustainable and eco-friendly packaging.
What are the solutions for beauty packaging?
In addition to the practicality of beauty packaging, its hygiene, product preservation, water tightness and transportability, today, more than ever, sustainable environmental responsibility is a major factor to integrate into the design of skin care products.  
This eco-responsibility transition is reflected in the entire life cycle of the product packaging: from its production, i.e. the choice and number of materials used to make it, to the production of the waste it generates after use by the consumer.
Despite an increasing trend towards a circular economy for packaging, the undeniable asset to beauty packaging is to visually market the brand, its marketing positioning and its values. 
For instance, natural cosmetics will call for eco-friendly packaging as it reflects the brand's responsible values and commitments. On the end, clean cosmetic packagings will echo the clean beauty approach.

So what solutions offer eco-friendly packaging?
recycled and recyclable material

bioplastic material

weigh reduction packaging

refillable packaging
1. Recycled and recyclable material
Manufacturing of beauty packaging made out of recycled materials is one of the most widely used solutions to date because it can be applied to all types of cosmetic packaging: bottles, pumps, tubes, jars and cardboard. 
However, the overall manufacturing of cosmetic packaging or part of it made from PCR (post-consumer recycled) plastic can have an aesthetic disadvantage when a cosmetic brand aims for a perfectly translucent or white packaging design.
Why is that? Simply because the recycled plastic naturally displays a light grey coloring that can not be removed. And it results in having:
a visual slight gray haze on transparent packaging (the haze varies in intensity depending on the manufacturer and manufacturing processes)

;

or tiny grey spots on opaque packaging (these are "dots" or "filaments" from the recycled plastic in the virgin recycled material mix)

.
Ways to counter that and achieve a seamless result is to colour the cosmetic packaging, especially when the packaged formula is translucent.
An additional alternative, mostly used by brands offering skin care products packaged in tubes, is the single-material packaging. 
For instance: a combined sleeve and head tube with a clickable flip-top cap can be manufactured from a single-material, which contributes to maintaining the good quality of the material from its recycling stream.
A new generation of eco-friendly packaging has arisen in the first 2020 semester: a partially cardboard-based tube.  
The result of extensive research conducted by L'Oréal and Albéa, and marketed by La Roche Posay for its Anthelios sunscreen body lotion and Lipikar AP+M balm, both ranges using FSC-certified cardboard innovative and eco-designed packaging. The use of plastic was reduced by 45% compared to existing beauty packaging.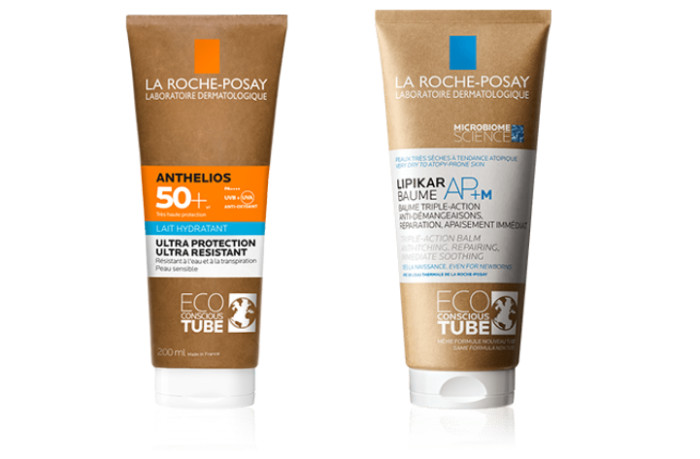 2. Bioplastic material
Coming from
renewable sources
(plant, etc.), biobased materials, and
in particular plant material
, have made a great way into the packaging market! 
Coming from renewable sources (plant, etc.), biobased materials, and in particular plant material, have made a great way into the packaging market!
With its different possible combinations, plant material is very popular in the beauty packaging market, especially  for polyethylene material – aka bioplastic material. Derived from sugar cane, bioplastic material can be present up to 100% or in a mix within the plastic material.
Another renewable source is wood, especially spruce. We find it in tubes in the form of fine sawdust particles. Tubes containing spruce are sensitive to touch with a slightly rough surface. This combination of bark and virgin plastic from sugar cane ensures that the packaging has a high bio-based content.
3. Weight reduction packaging
Cosmetic industry players have reviewed the complete beauty packaging including its weight in order to produce more with even greater sustainability, and to optimise transport: a lighter cosmetic packaging will improve the CO2 balance for transport / product. 
Beauty packaging with weight reduction include:
thinner walls, in particular for tubes packaging

;

slimer and lower flip-top cap which can sometimes be combined to one another.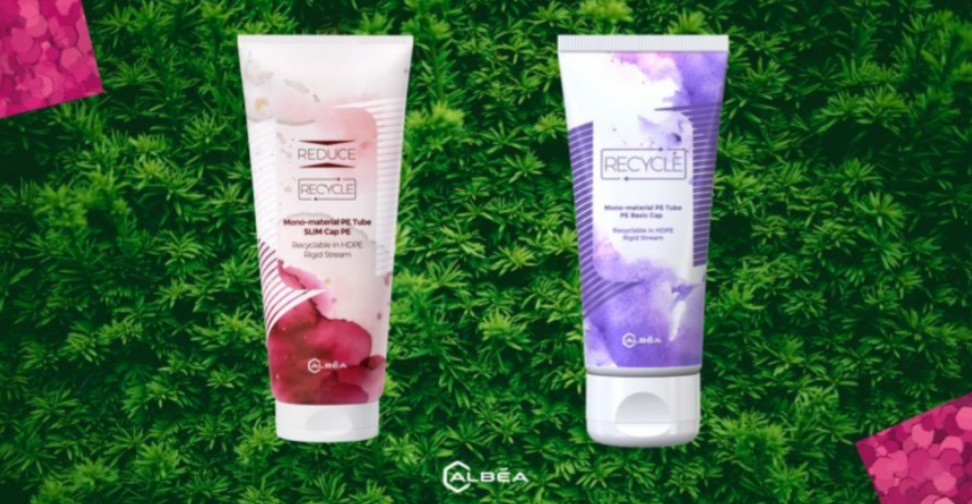 4. Refillable packaging
For several years now, eco-refills have been a feature in the hygiene industry, offering refillable packaging in pump bottles (400 to 500ml) or in bottles with caps (1L).
This trend is finally extending to the beauty landscape and cosmetic brands have a new battleground to claim.  
Here are some examples:
French cosmetic brand

l'Occitane en Provence

, pioneer in the implementation of refillable packaging has extended this eco-friendly packaging to its body care range, in glass jars or bottles

.

Another French brand

Cozie

has literally embraced the trend to make it its business model with.
Are you a cosmetics brand who wants to develop a range of sustainable eco-friendly packaging and skin care products? Contact ALPOL Cosmetique to accompany you in your project and guide your responsible formula changes.